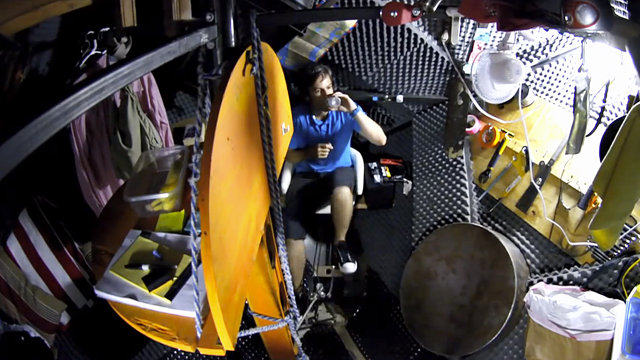 Healthy living in the (spoofed) Astor Place Cube (Alamo)
 Not long ago, an article in The Atlantic on the "health risks of  small apartments caused a minor stir on the internet.  Other sites piled on with hyperbolic headlines: Micro-apartments' linked to psychological problems, domestic violence and drug abuse (dailymail) and Micro-apartments could make you 'crazy' (NYPost)
Wow! Who would want more crazy, abusive, drug users in their neighborhood?
A glance at comments and we see how hyperbole like this succeeds in drawing frothy web traffic from all extremes: right wingers pronouncing micro-apartments are part of an "Agenda 21" conspiracy, to left wingers denouncing "greedy developers."
After reading some of the health experts on the subject, I suddenly (yet briefly) feared my own small apartment. Dak Kopec speculated that living in a small space can be unhealthy for someone in their 30's or 40's – and I'm 38!  I do concede that the idea of rearranging furniture as the day goes by, as Kopec mentioned, does stress me out – I couldn't constantly be transforming my home like some of the small apartment concepts being proposed – I prefer a small, but static home.
Susan Saegert, professor of environmental psychology at the CUNY Graduate Center and director of the Housing Environments Research Group observed that a lack of privacy and cramped living conditions are correlated to children's difficulty concentrating.  Could I be endangering my family's health after living there comfortably for years?
These are interesting points. Since, I'm not a psychologist, it wouldn't be responsible for me to debate that. (Psychologists, please reach out to me if you have information on this topic – I want my family to be safe)
Are we really worried about families moving into micro-apartments as small at 200-300sf?  I can't imagine families seeking out micro-apartments unless under special circumstances.  There are other great options for families.  Micro-apartments are specifically targeted to young, single, professionals, so I think the point is largely irrelevant.
Next, the author takes a troubling detour in the discussion with the psychologist.  Saegert shares doubts whether it's a valid public goal to develop smaller units on city land.
"In New York, property is just gold," she points out. "Isn't this something a developer could do in a [Brooklyn] neighborhood like DUMBO and make a lot of money?" By the same token, if micro-apartments are indeed the wave of the future, Saegert argues, they increase the "ground rent," or dollar per square foot that a developer earns and comes to expect from his investment. So over time, New Yorkers may actually face more expensive housing, paying the same amount to rent a studio in the neighborhood where they used to be able to afford a one-bedroom. With the gradual erosion of zoning rules, the micro-apartment could very well become the unit of the future, the only viable choice for a large number of renters.
I'm completely baffled why The Atlantic included this.  It's sloppy journalism on several levels:
The statement has nothing to do with health, the subject of the article.  This makes me wonder if the intent was to have unbiased discussion of health issues, or draw skepticism towards micro-apartments.
The author seems to be implying that those who choose bed-roomed homes are a class of people who should be protected at the expense of those who would choose a more meager space.
Why does The Atlantic allow a professor of psychology to make an economic argument? They don't mention her credentials on that subject.  Wouldn't it be more credible to find an economist or housing expert to make such an assertion?We'd be pretty confounded to see a housing economist being quoted about nuanced psychological matters.
There's a good reason the author couldn't find someone qualified to make such a statement: this "ground rent" argument is economic sophistry. True, ground rent for that site goes up if a higher rent per square foot is earned. However, because of a smaller unit footprint, twice as many people's housing needs are met on that piece of ground. Since more people's desires are met by that piece of land, those satisfied renters would no longer be in the pool competing for the pricier one-bedrooms.  Thus, pressure on the price of land for projects with one-bedrooms is relieved, and more people have the homes they desire than if all homes were one-bedrooms.  Families rejoice!!
Let's just pretend we live in a world where the psychologist is right about the economics of "ground rent". If induction of higher rents was a justification to forcibly prevent someone from making that living choice, then I can think of a few things that should be a higher priority such as stopping the development of large new construction luxury condos. With prices averaging as high as $5,487/sf, these large units drive land prices higher than micro-apartments ever could. Therefore, according to these ethics, authorities should first forcibly prohibit the construction of large apartments before they go after those who want to live in small apartments. (Of course, I do not advocate this)
The psychologist concludes that an "erosion of zoning rules" would make micro-apartments "the only viable choice" for renters.  This is a misunderstanding of zoning.  Zoning, by definition, limits the supply and choice of housing.  An erosion of zoning would actually give renters a more diverse choice, and make housing more affordable.  Using the same analogy as #5, if Saegert zoning analysis was right, from Harlem to Bushwick, renter's only choice today would be ultra-luxury condos.
Hopefully, journalists will take more care to report more responsibly about micro-apartments.  Especially considering the publications that thrive on alarmist hyperbole are still going to pile on to spread misinformation.